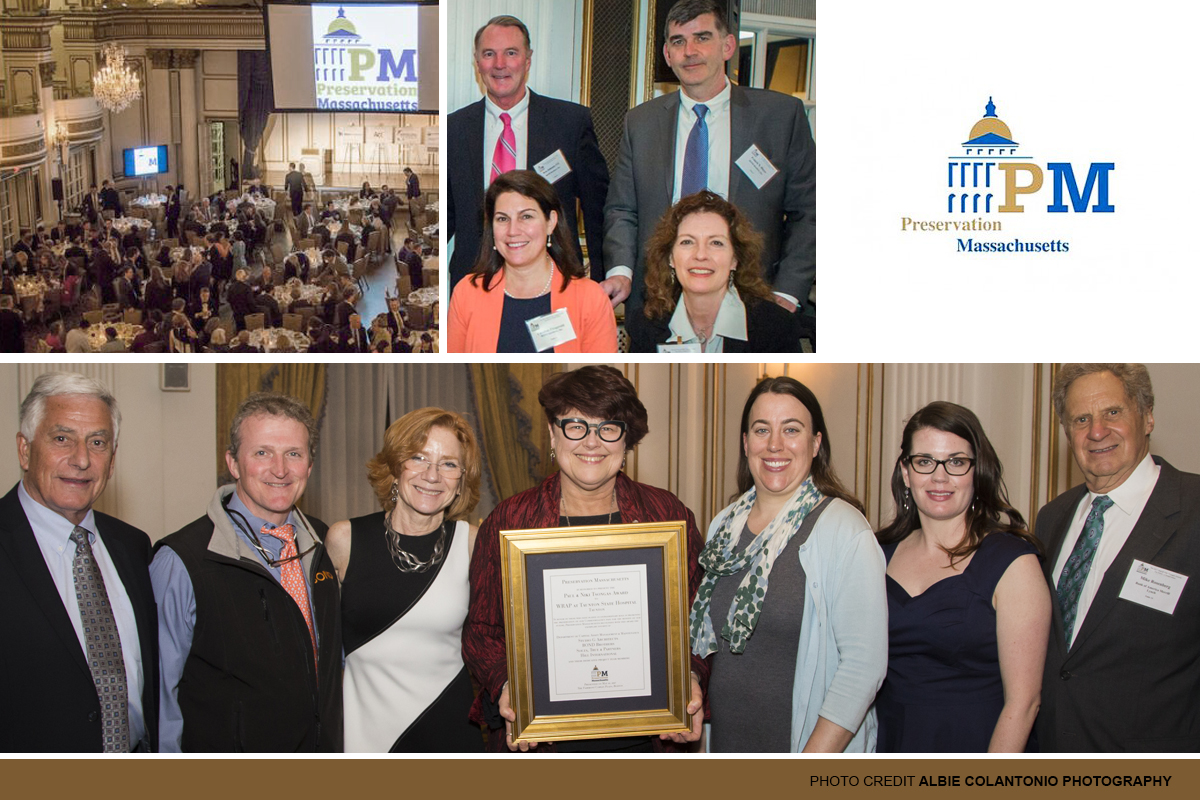 (Boston, MA) – BOND, the Northeast's premier building, civil, utility and energy construction firm, is pleased to announce the Taunton State Hospital WRAP (Women's Recovery from Addictions Program) project has been awarded the Preservation Massachusetts 2017 Paul and Niki Tsongas Award. The project was recognized in the category: Best Use – Community and Social Services.
The award ceremony was held on May 10th at the Fairmont Copley Plaza in Boston. The Tsongas Award recognized BOND's renovation which includes 17,050 square feet of the historic Taunton State Hospital's Chambers Building, a secure facility that houses women who are recovering from addiction and substance abuse. The project was highly successful in transforming an outdated building on an underutilized campus into a new state-of-the-art treatment and recovery facility with a nurturing soul of 165 years of history.
"BOND has been working in the historic preservation sector since 1907," said Robert Murray, President of BOND. "We are committed to this type of project and will continue to uphold the mission of Preservation Massachusetts to actively promote the preservation of historic buildings and landscapes as a positive force for economic development and the retention of community character."
"The Taunton State Hospital Women's Recovery from Addictions Program (WRAP) and Taunton State Hospital are strong examples of the power of preservation and the power of a mission," said Pamela Bailey, BOND Project Manager. "It's an honor to be a part of such an impactful project to our state and to the community."
Project construction began on December 1, 2015, and the WRAP project in the Chambers Building was open for occupancy on July 5, 2016. Fast-tracked by Governor Baker as an emergency project, the construction phase took just over six months – an accomplishment achieved through a highly collaborative team of owner (DCAMM, the state's building agency and Department of Mental Health), architect (Studio G) and builder (BOND).
Within that time period, the existing stereotypical institutional glazed block wards were transformed into a welcoming, home-like environment. Spaces were designed to give individuals a sense of control and identity. Complete HVAC and life safety systems were installed. Two beautifully-landscaped courtyards with site furnishings, walks and fencing were created to give the clients access to the outdoors. Final renovation provided two new wings of patient rooms, an administrative wing, lounges, dining rooms, nurses' stations, medical rooms and other support spaces.
The 29th Annual Tsongas Awards recognized 22 projects from Plymouth to Pittsfield that demonstrate the award theme, The Power of Preservation. Winners were selected through a nomination process. Each project, along with their team, show what preservation brings to communities and lives. They range in use from housing to educational facilities, to health care and community service uses and show that preservation is a tool that utilizes the past to make a better future.
About the Paul & Niki Tsongas Awards
Founded in 1985, Preservation Massachusetts is the statewide non-profit organization that actively promotes the preservation of historic buildings and landscapes as a positive force for economic development and the retention of community character. Since 1988, the Paul & Niki Tsongas award is the highest honor given by the state's historic preservation advocacy organization and was named for its first recipient, Senator Paul Tsongas. In 2016, the award was renamed to include Congresswoman Niki Tsongas for her support of preservation. The theme for this year's awards is The Power of Preservation. Awards were presented at the historic Fairmont Copley Plaza in Boston. Proceeds from the dinner directly support the programs and advocacy work of Preservation Massachusetts.