Preserving the Past to Enhance the Future
Restoring and preserving historic structures is a responsibility that BOND Building takes very seriously. Acting as stewards of these significant assets is an honor that we uphold through careful planning and extensive collaboration with owners. We approach historic restoration with a strong respect for a building's cultural heritage and a detailed plan for making it viable in the 21st century.
BOND Building's Team of Trusted Restoration Experts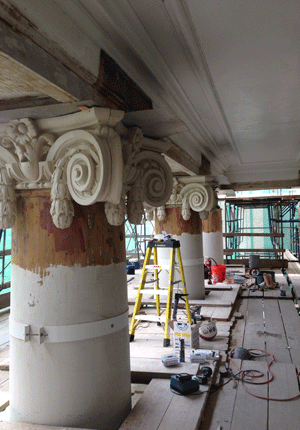 BOND Building's historic restoration approach is upheld by our dedicated team of in-house preservation experts. These individuals possess strong relationships with local historical commissions and are well-versed in the Standards for Historic Rehabilitation. Their extensive experience allows BOND Building to bring new life to neighborhoods, campuses, and city blocks through the adaptive reuse and preservation of their landmarks.
Flawless Preservation through State-of-the-Art Tools
Our team's experience is backed by a collection of state-of-the-art tools and detailed processes that enhance the restoration process. Virtual Design & Construction technologies, particularly laser scanning, ensure that building upgrades fit seamlessly into a structure's existing fabric. The tablet-based BIM360 program facilitates a detailed quality control process. This blend of dedicated expertise with cutting-edge technology results in the highest level of craftsmanship and superior historic restoration efforts.
Historic Restoration Experience
BOND Building has delivered many significant restoration projects throughout New England, including the: