Pursuit of Excellence
There's nothing old school about it. We've been building innovative, world-class spaces and developing infrastructure for some of the most prestigious campuses in New England for more than a century.
Within the education sector, BOND's focus goes far beyond a single project. We work closely with our college and university clients to gain a strong understanding of their long-range master plans so we can build facilities and create framework that will support their institutional goals for years to come.
BOND thinks like an owner to develop student-centered construction approaches with a laser focus on safety and minimizing disruption. Our dedication to the growth and development of academic campuses is a driving force that results in state-of-the-art learning, living, and collaboration space for students across the Northeast.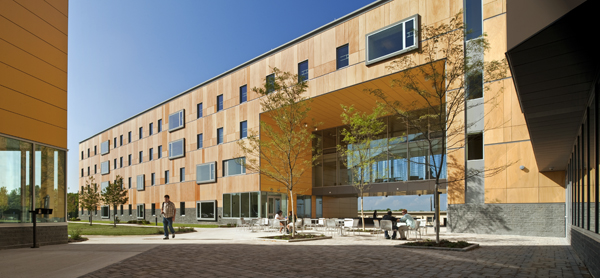 Our Expertise
BOND services span academic clients in both public and private education sectors. Our technical expertise and traditional craftsmanship are applied to a wide range of facility types and infrastructure projects, including:
Academic Facilities
Athletic Complexes & Fields
Classroom & Office Space
Garages
Historical Renovations
Kitchens & Dining Halls
Large Scale Renovations / Adaptive Reuse
Lecture Halls & Performance Centers
Residence Halls
Science Centers & Laboratories
Student Centers
District Energy
Central Energy Plants
Chiller / Boiler Plants
Cogeneration
BOND Civil & Utility – Infrastructure
Hardscape / Landscape
Site Enabling
Site & Concrete Work
Utility Systems
For more information, please contact:
Stacie Coleman, Client Development Associate
scoleman@bondbrothers.com