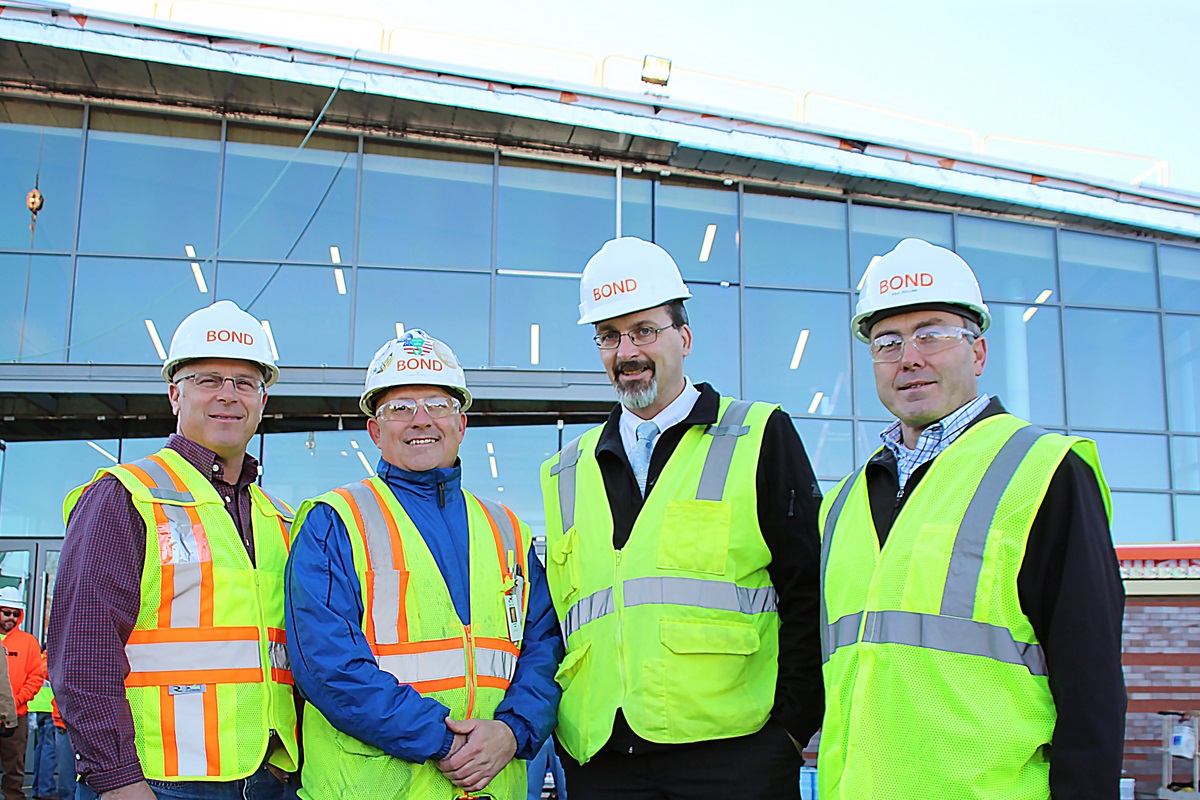 (Boston, MA) – BOND, the Northeast's premier building, civil, utility and energy construction firm, recently celebrated the topping off ceremony for the College of the Holy Cross' Hart Center at the Luth Athletic Complex. The ceremony marked the last steel beam raised on this new 281,000 square foot facility. It was attended by members of the college, faculty, students, the BOND project team and partners including Sasaki Associates, BR+A Engineering and LeMessurier.
Located in Worcester, Massachusetts, the revitalized, state-of-the-art facility is the central piece of the College of Holy Cross' plan to transform and rejuvenate the college's athletic program. The overall project is composed of a 138,000 square foot renovation and a 143,000 square foot addition to the Hart Center. Outstanding features include:
Indoor practice facility with 100 yards of turf for use by all field sports
Auxiliary gymnasium for basketball and volleyball team practice and competition
New space for sports medicine services
Rooms for strength and conditioning training and equipment
Locker rooms for all varsity teams
New meeting rooms and recruiting space
Offices for athletic administrators and athletic support services and its programs
Exterior plaza for events
"BOND is proud to be part of this exciting team on the College of Holy Cross campus," said Robert Murray, BOND President. "The construction of the Hart Center will result in a transformative signature building for the College and its students."
The project is on-track, within-budget and slated for completion in early 2018. The renovation and expansion of the Hart Athletic Center will provide student-athletes with facilities consistent with those offered by other Division 1 athletic programs and provide a world-class collegiate, competitive experience.
About the College of the Holy Cross
The College of the Holy Cross (holycross.edu), located in Worcester, Massachusetts, is among the nation's leading liberal arts institutions. A highly selective, four-year, exclusively undergraduate college of 2,900 students, Holy Cross is renowned for offering a rigorous, personalized education in the Jesuit, Catholic tradition. Since its founding in 1843, Holy Cross has made a positive impact in society by graduating students who distinguish themselves as thoughtful leaders in business, professional and civic life.