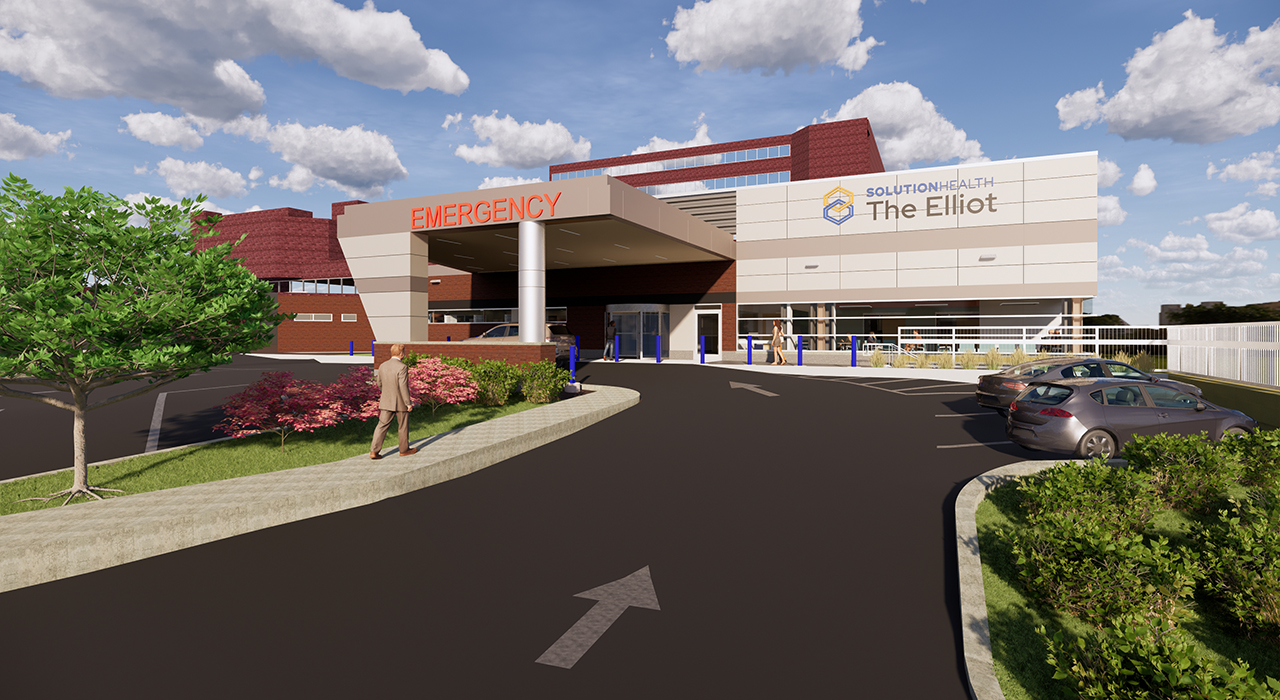 BOND Building Construction, Inc. (BOND Building), the Northeast's premier building construction firm, has officially broken ground on an emergency department expansion project for Elliot Hospital in Manchester, New Hampshire. The BOND Building project team and executives celebrated this milestone alongside elected officials, hospital leadership and other healthcare providers at a groundbreaking ceremony on Friday, June 18. Speakers included Joyce Craig, Mayor of Manchester, Dr. Greg Baxter, President of Elliot Health System, and Dr. Joseph Guarnaccia, Medical Director of the Emergency Department at Elliot Hospital.
"The new ED was designed to accommodate the needs of the growing Greater Manchester community by increasing bed capacity, providing advanced technology, and most importantly, providing increased privacy and safety within the busiest emergency department in the state," said John Leary, RN, NR-P, TCRN, Director of Emergency Services at Elliot Hospital. "Further, the additional space will improve operational workflows for staff to provide outstanding care and document at the bedside. Our ED team collaborated in all phases of the design process to achieve the highest quality of patient care and safety for those we serve every day."
BOND Building will provide design-build services for the 22,000 square-foot project. The phased renovation and addition will include three new trauma bays, 32 private rooms, four pediatric exam rooms, and six psychiatric evaluation rooms to treat the nearly 65,000 patients that visit Elliot's emergency department every year. It will house acute treatment, circulation, nurse station and staff areas, reception and waiting, security, support space, and an X-ray machine.
The project was originally slated to begin last year but delayed due to the COVID-19 pandemic. The additional time gave the design-build team an opportunity to redesign the reception, waiting room and triage areas as well as add a rapid treatment area to the floorplan. The modifications will allow the hospital to isolate infectious patients, increase ventilation and air filtration systems, and add additional oxygen ports to care for an increased number of patients, making it better equipped to handle future pandemics.
"We are grateful for the relationship we've built with Elliot Health System and value their partnership in delivering this cutting-edge project," said Mike Walsh, Vice President of Healthcare & Life Sciences at BOND Building. "The emergency department expansion will ensure that Elliot is better equipped to provide outstanding care to its patients, and we're proud to be working towards this vision."
The designers for the project are e4H, Simon Design, Fuss & O'Neill and BR+A. The first phase, expected to be completed in February 2022, will include construction of the new building and moving reception, triage, and rapid triages areas into it. Phase two will include moving the rest of the emergency department and services into the building. The full project is expected to be completed in early 2023.