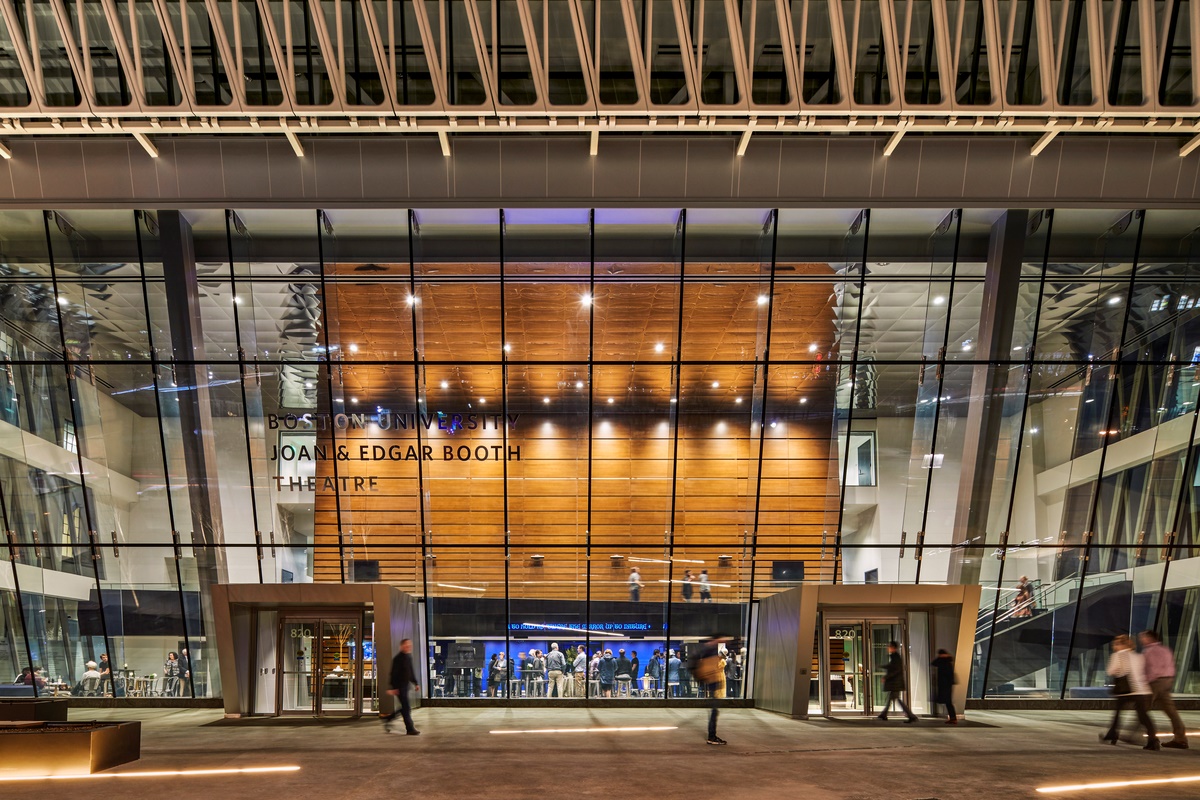 (Boston, MA) – BOND, the Northeast's premier building, civil, utility and energy construction firm announces it has received a Construction Management Association of America, New England Chapter (CMAA) Project Achievement Award for the Boston University Joan and Edgar Booth Theatre and Production Center. The project won in the New Construction category at the 24th Annual Awards Ceremony held on May 9, 2018 at the Omni Parker House, Boston.
Within an aggressive fast-track 15-month design and construction schedule, BOND delivered a beautiful multi-functional theatre complex, with innovative spaces and design labs for teaching and producing student theater. Working closely with University stakeholders and design firm Elkus Manfredi Architects, BOND developed a customized project delivery plan that aligned design and budget. Methodologies included Lean Management strategies, a two-phased occupancy approach, off-site prefabrication and early team work to resolve constructability issues and materials selection.
"I was impressed with the dedication and thoughtful approach that went into this challenging project," said David Flynn, Assistant Vice President of Facilities Management, Boston University. "Through BOND's preconstruction process and efforts, the project team helped us evaluate all the options and find creative ways to meet our priorities. The team worked diligently, when it became apparent that the original schedule expectations could not be achieved, to come up with an approach to ensure the Theatre and Production Center had a phased in project delivery schedule."
Creating a solid teaching ground for the College of Fine Arts aspiring theater professionals, the 4-story, 75,000 SF complex is uniquely designed, with an outward slanted glass front façade. The new complex includes a 250-seat black-box theatre, high bay spaces for scenery and prop construction, costume shops, graduate and student studios and faculty offices. A 65,000 SF two-level subsurface parking garage and adjoining parking lot provides space for 290 vehicles with a landscaped plaza. The new building is located at 820 Commonwealth Avenue in Boston.
"We are very pleased to be a part of the CMAA New England Project Achievement Awards," said David Shrestinian, BOND's Senior Vice President, Building Division. "This is a project we are especially proud of, with a terrific synergy between the owner, designer and project teams. As we see the excitement on the faces of the students, teachers and faculty in their new signature building, we couldn't be more pleased with the results. Both the project and the CMAA award are even more meaningful to us, as we were able to collaborate with our esteemed colleague, the late Howard Elkus, whom we miss dearly today."
About CMAA New England
Started in 1991 by a small group of professionals devoted to construction in a management role, the New England Chapter now has over 500 members with approximately 90 Certified Construction Managers (CCM). The continued growth of CMAA indicates the rising importance of construction management within the industry and the value of CCM certification.
The Chapter offers numerous activities to the membership, some of which include Monthly Breakfast Programs, Owners' Forum Luncheon, Annual Project Awards, Student Scholarships, Professional Certification Classes, Construction Legislation Tracking & Alerts, and Annual Golf Outings. For more information, please visit the website http://www.cmaa-ne.org.